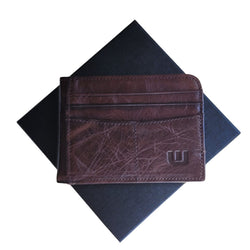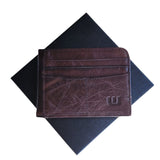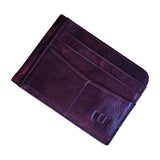 Simple Leather Card Holder
Introducing the "Luxe Minimalist" Waxed Leather Card Holder
Elegance meets innovation with the Luxe Minimalist card holder. Crafted for those who find beauty in simplicity and demand functionality in every detail, this holder stands as an emblem of minimalism paired with modern-day protection.
Purposeful Design with Elevated Security:
Six Slots: Each meticulously designed to snugly hold your cards, these slots come equipped with RFID protection, ensuring your sensitive information remains safeguarded at all times.
Two Pockets: Beyond providing additional space for essentials, these pockets are seamlessly integrated with RFID shielding, marrying convenience with security.
Innovative Cash Pocket: A uniquely designed middle cash pocket that opens 75% on one side ensures quick and hassle-free access to your bills, a touch of innovation to simplify your daily transactions.
Vintage Craftsmanship: The Luxe Minimalist is sculpted from premium waxed leather, carrying with it a touch of bygone elegance. The leather isn't merely about visual charm; it's a passage through time, graced by the evolving patina that grows richer with each passing day.

Palette of Sophistication: Offered in the sumptuous shades of rich chocolate and intoxicating wine red, the hues radiate timeless sophistication. The waxed leather's understated gleam, set against these classic colors, perfectly embodies minimalist allure.
In a world clamoring for attention, the Luxe Minimalist rises above with its harmonious blend of simplistic design and cutting-edge protection. More than just a card holder, it's a statement of discerning taste and a commitment to understated elegance. Elevate your essentials today.